O-NET TECH GP(877)
Analysis:
The revenue in the interim result was recorded HKD1.207 billion, up 37.1% YoY; the profit attributable to equity holders of the company increased 51.8% to HK 111.9 million. Net operating cash flow surged 6.3 times to HK262.8 million. Thanks to strong growth of data center interconnect, it is expected the group`s Raman, ICR and TNF products will remain its leadership. Besides, the global operators are also accelerating their 5G development, expecting there will be a considerable amount of base station to be built after 2019. According to the technological characteristic of 5G, the number of 5G base station will overtake that of 4G, about 2 to 3 times more in China; 8 to 10 times even more in global market. The arrival of 5G could be a driver for the optical component. Aides the optical component, the industrial laser business has been performing well, with a CAGR of 43% from 2015 – 2017, which would be another growth driver of the group and makes its business more diversified.
Strategy:
Buy-in Price: $3.20, Target Price: $4.20, Cut Loss Price: $2.60

Huayu Auto (600741.CH) - Continue to Promote Product Upgrading and Emerging Business Development Following the "3+2+1" Strategy
Investment Summary
HASCO is the pioneer of China's auto component industry. The company will continue grow its core businesses through a combination of outward expansion and organic growth, so that it can foster transformation and upgrade of these business lines to support sustainable growth. We believe that to attract customers, auto manufacturers will tend to apply more high-end and high-technology auto parts and components in their automobiles. This trend will certainly benefit top-tier auto parts manufacturers such as HASCO. We reaffirm "Buy" rating.
Earning Increased by Nearly 50% in H1 and Acquisition of Huayu Vision Improved Result
Huayu Automotive's revenue increased by 19.35% to RMB81.627 billion in the first half. The total net profit attributable to the parent was RMB4.774 billion, increasing by 47.67% yoy, equivalent to EPS RMB1.51. The result significantly exceeded market expectations and this was mainly due to the acquisition of Shanghai Koito Automotive Lamp Co., Ltd.(now named Huayu Vision), meanwhile one-time premium investment gains of RMB920 million were recognized. Excluding that, net profit was RMB3.34 billion, up about 8.5% yoy. Besides, the excellent performance of its major customers, SAIC Motor companies also contributed to the outstanding result of the company.
Main Business Maintained Steady Growth
During the period, the company's main business maintained a rapid growth, up 19.8% yoy. With regard to business segments, traditional main business such as interior and exterior trims and functional parts maintained steady growth, and emerging business such as automobile electronics soared. Interior and exterior trims revenue was RMB51.637 billion(+16.2%), functional assembly revenue was RMB17.073 billion (+18%), metal moulding revenue was RMB5.737 billion (+71.4%), electronic and electric parts revenue was RMB2.766 billion (+32.7%) and hot working processing revenue was RMB482 million (-3.3%). Among major joint ventures, Yanfeng Visteon Automotive Trim Systems Co., Ltd reported revenue of RMB49.72 billion (+5.3%), Shanghai Huizhong reported revenue of RMB10.68 billion (+23.5%) and Huayu Vision reported revenue of RMB7.74 billion. With regard to regions, domestic business revenue surged up 27%, while overseas operations fell 2.8% as the U.S. market underperformed.
Costs Rose to Some Extent
As raw material prices rose in the first half of the year, gross margin of the main business dropped 0.73 percentage point to 13.35%.Due to the impact of the acquisition of Huayu Vision and logistics cost increase, the sales cost increased by 39% or RMB324 million yoy. At the same time, the R&D expenses also increased by 58% to RMB1.7 billion yoy for the acquisition and the company's increased investment in R&D.While the weighted average ROE increased by 2.85 percentage points to 11.07% as management efficiency remained outstanding.
Continue to Promote Product Upgrading and Emerging Business Development Following the "3+2+1" Strategy
Backed by strong SAIC, Huayu Automobile has obvious competitive advantage in respect of customers/R&D/network layout/capital etc. The company also actively grasps the trend of electric vehicle, network connection, intelligence and sharing of the automotive industry. According to "3+2+1" strategy (i.e., 3 professional sectors of intelligence and interconnection, electric system, lightweight, 2 integrated platforms for interior and exterior trims and chassis, and 1 investment and financing platform for international and domestic synergies), the company will further develop.In addition to the steady growth of the traditional business, the company has a promising future in the field of new energy electric drive, intelligent driving ADAS and intelligent headlights. The company's joint venture company, Huayu Magna, whose new energy vehicle electric drive system has obtained SAIC-Volkswagen, FAW-Volkswagen MEB platform designated letter of intent. The company has produced 24GHz backward millimetre wave radar and conducted the marketing, completed 77GHz angle radar sample making, and 77GHz forward millimetre wave radar products are under R&D. Investment in R&D of intelligent headlights continues to increase. The integrated effect of Huayu Vision is expected to be further developed.
Investment Thesis
As analyzed above, we revised EPS expectation of the Company to RMB 2.47 and 2.59 of 2018/2019. And we accordingly gave the target price to 26, respectively 10.5/10x P/E for 2018/2019. "Buy" rating. (Closing price as at 8 Oct 2018)
Financials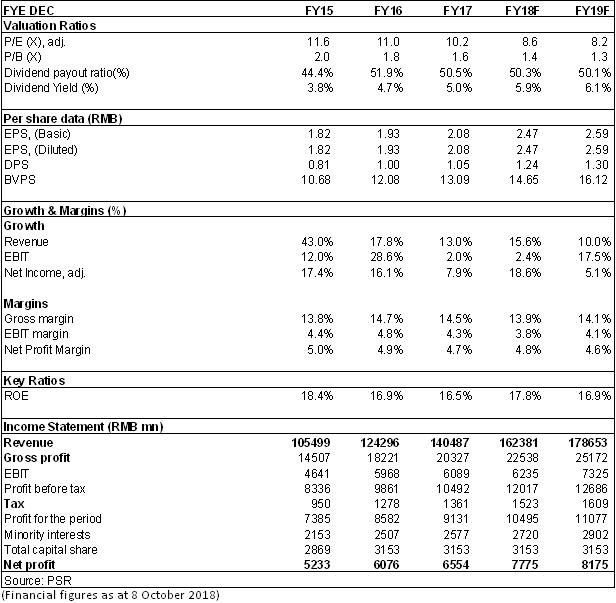 Recommendation on 11-10-2018
Recommendation
Buy
Price on Recommendation Date
$ 21.170
Suggested purchase price
N/A
Target Price
$ 26.000