Jumpcan Pharma (600566.SH) - Strong 18H1 Results with Core Products Growing Fast
Investment Summary
The company reported solid 18H1 results, given topline/profit attributable recorded 35.36%/44.81% growth yoy. Due to higher expectation for whole year performance, we raise 18E/19E EPS forecasts to RMB2.11/2.97. Considering recent market volatility, we adjust 6-month target PE to be 20x to derive TP of RMB42.2, suggest to prudently trade and accumulate during price trough. (Closing price at 12 Oct 2018)
Business Overview
Solid 18H1 results. In 18H1, Jumpcan revenue was RMB3.8bn up by 35.36% yoy, net profit attributable to shareholders RMB842mn up by 60.58% yoy, and NPATS excluding non-recurring items RMB820mn up by 73.6% yoy. Selling expenses went up by 45%, while impairment increased sharply due to accounts receivable surged. Higher profit margin growth was due to effective cost control measures in selling and administration. Net cash flow from operation reported yoy growth of 43.72%, mainly resulting from enlarging sales scale and higher capital turnover.
Wide coverage of fast-growing core products. Pudilan Oral Liquid is an exclusive dosage form, which is mainly used for treatment of mumps, pharyngitis, tonsillitis, furuncles, etc. Child Chiqiao Qingre Granule is an exclusive drug, mainly for children cold. In 2018, the two drugs were recommended for the prevention and treatment of influenza in Jiangsu Province in a diagnosis and treatment plan (江蘇省流行性感冒中醫診療方案(2018版)). Also they are recommended for the treatment and prevention of hand foot mouth disease in a provincial medical document (廣東省中醫藥防治手足口病專家共識). Due to the exclusive nature of both products and the availability in hospitals and OTC pharmacies, selling growth momentum will continue to be strong in the future.
Strong marketing channels. The company mainly focuses on academic promotion with distributors as supplement, and has established a professional academic promotion department. Its marketing offices cover 30 provinces, municipalities and autonomous regions in China, and have more than 3,000 marketing staff. Its sales terminals involve hospitals, OTC drugstores, and primary medical institutions. For OTC, the company sets up an OTC management team, which carries out product display and promotion.
R&D progresses. During the reporting period, the company completed the BE test of two drugs (Prucalopride Succinate Tablets and Tadalafil Tablets). As up to the end of first half, the company has obtained 17 clinical trial batches, launched one BE test, completed two BE tests, and applied for 16 production approvals. The company cooperated with the Institute of Chinese Materia Medica (中國中醫科學院中藥研究所) to carry out the second-stage development project of POL, ensuring good quality of follow-up products. During 18H1, the company obtained five patents including: a Pudilan Antibacterial and Antipruritic Bath Lotion and its preparation method; posaconazole oral suspension and its preparation method; a synthesis method of Citafloxacin; a preparation method of Citafloxacin Granules and its preparation method; a Chinese herbal compound and its application in preparation of drugs for chronic pelvic inflammation.
Investment Thesis & Risks
Our target price is adjusted to RMB42.2. We suggest to accumulate Jumpcan during price trough due to its better fundamentals than peers, given higher-than-average growth performance in FY18H1 and FY17. We increase EPS estimates to be RMB2.11/2.97 for 18E/19E based on good operation results in first half, and derive 6-mon TP of RMB42.2, targeting 20x PE. Risks include: Slow-than-expected sales growth; Share selling of major shareholders; Policy risks.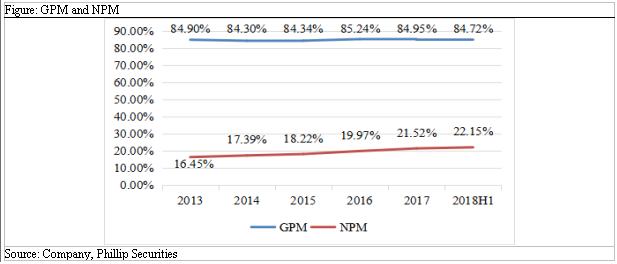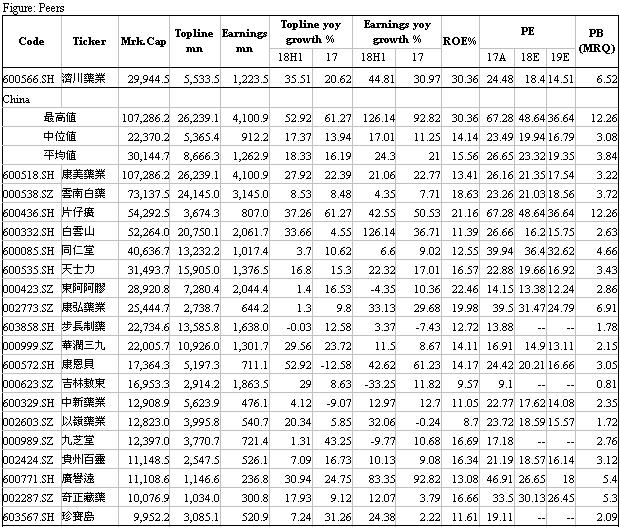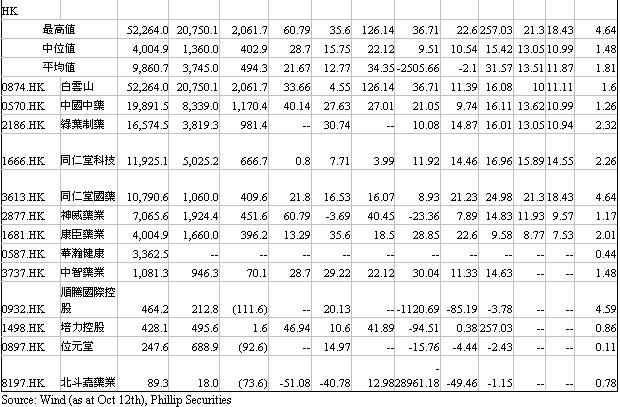 Financials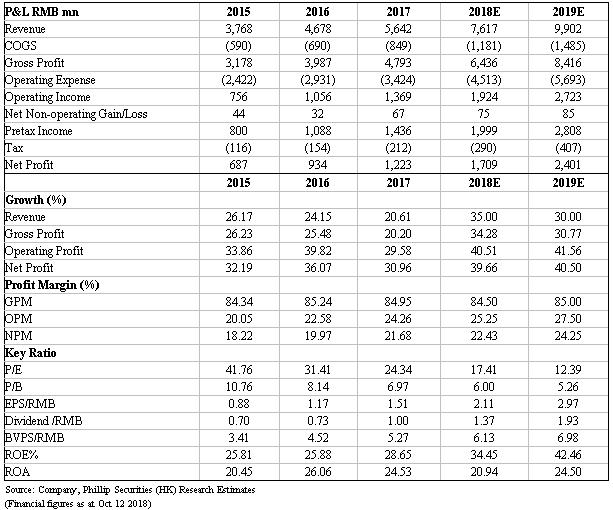 Recommendation on 16-10-2018
Recommendation
Accumulate
Price on Recommendation Date
$ 36.750
Suggested purchase price
N/A
Target Price
$ 42.200