PA GOODDOCTOR(1833)
Analysis:
PA GOODDOCTOR is an Internet medical health platform of Ping An. The revenue of the first half of 2019 rose by 102.4% year-on-year to RMB 2.273 billion; the gross profit rose by 59.2% year-on-year to 492 million yuan; the loss attributable to shareholders decrease by nearly 40% year-on-year to 273 million yuan; the adjusted net loss was 223 million yuan, a year-on-year decrease of 42.5%. PA GOODDOCTOR`s income is mainly derived from five part: online medical services, consumer healthcare, health mall-individual consumers, health mall-corporate clients, and health management and wellness interaction.The income of each business segment maintained a good growth trend, with a year-on-year growth of more than 55%.The company`s business operations capabilities continue to improve, while the operating expenses (including sales and marketing expenses and management fees) accounted for 40.5% of revenue, decreased 35 percentage points year-on-year. Since the beginning of this year, the mainland government has attached great importance to "Internet plus medical care", and intensively issued various policies have also caused positive responses in various places. As of June 30, 2019, the company has reached a strategic cooperation agreement with nearly 50 offline hospitals, and gradually developed an online hospital management platform that integrates online medical treatment platform, prescription sharing platform and commercial insurance payment platform. From this point of view, PA GOODDOCTOR`s core business is in line with the needs of medical reform, and it is expected to benifit first as a leading Internet medical health platform.
Strategy:
Buy-in Price: $54.00, Target Price: $62.00, Cut Loss Price: $46.00




Japan Exchange Group, Inc. (8697)
Established in 1947 as a general trading company. In addition to carrying out the retail, import and export / trade between foreign countries / manufacture of products in the fields such as the lifestyle industry, energy, chemicals, machines / infrastructure, metal resources and steel products, company also offers comprehensive services such as finance, transport, telecommunications and retail, etc. Also carries out business investment, etc. in new fields and resource development businesses.For 1Q (Apr-Jun) results of FY2020/3 announced on 31/7, earnings increased by 4.9% 1.63312 trillion yen compared to the same period the previous year, income before tax increased by 3.2% to 172.403 billion yen, and net income increased by 5.6% to 125.036 billion yen. Supported by the increase in sale prices of iron ores, profit from the Australia iron ore business has grown. Dividend income from 6 LNG projects have also contributed to an increase in profit.For its full year plan, net income is expected to increase by 8.6% to 450 billion yen compared to the previous year. Company announced that their petroleum and natural gas / metal ore resource structure obtained the final approval to develop the LNG production business planned by the Russian NOVATEK. The companies are being invested in by the Russian Arctic LNG2 project, and total developmental costs are 21.3 billion dollars. Scheduled to begin production in 2023.

Xtep (1368.HK) - National policy supporting industry development, multi-brand strategy opening up 1st-tier market
Investment Summary
Xtep is placed as a brand management company with a clear brand image focusing on professional running that distinguishes it from the industry. Transforming from a fashion sportswear company to a Chinese runners` favorite brand, Xtep continued to rank first among all domestic brands and fourth among all global sports brands in international class marathons held in Beijing, Shanghai, Guangzhou and Xiamen, with the market share ranging from 10% to 20% in 2018. The plan, named "Outline for Building a Leading Sports Nation", was released recently by the State Council, aimed at helping accelerate China's overall sports development. According to the outline, by 2035, 45 percent of the population is expected to get involved in medium intensity exercise three times a week, up from 33.9 percent in 2018. The country is also developing a robust sports industry bolstered by sports-related consumption, production of sports goods and sports leisure and tourism into a strong pillar of economic growth by 2050, according to the plan. According to Frost & Sullivan, China became the world's second largest sports footwear and apparel retail market after the U.S. in terms of total retail sales value in 2018, and it is also among the fastest growing major markets in the world. The total retail sales value of China's sports footwear and apparel retail market increased at a CAGR of 12.8% from 2014 to 2018, and is expected to grow at a CAGR of 10.2% until 2023.
Xtep's interim revenue increased by23%,mainly driven by sales volume, ASP increased by 3% to 5%. It is expected that with the upgrading of products, ASP will grow by 3 to 5% every year in the future. From July to August, retail sales growth followed the trend of the 1H. It slowed down slightly in September. The management team believe that it was due to the warm weather. As the weather turns cooler, sales will pick up. It still maintains the annual core brand revenue growth target of 20%, next year is a double digit. After the announcement of the interim results, Xtep's share price dropped, mainly due to the RMB100 million expenses incurred by the K-Swiss and Palladium acquisition projects, which will be reflected in 2H. In fact, RMB40 million is for the relevant administrative, legal and auditing costs involved in the acquisition, and the rest is the one-off expenses for the employee's contingency expenses and inventory impairment which will be involved in the termination of the loss business.
Although Xtep's multi-brand strategy will increase the operating expenses in the short term, it will put pressure on the profit margin. However, in the long run, sources of income can be diversified. Xtep currently focuses on the second- and third-tier cities or below. The new brands business can help the company to open up high-end first-tier market. The new brand K-Swiss business still record a loss. It is expected to take 18 to 24 months to consolidate and will be re-launched to the market in 202. Most of this business is wholesale business, and Xtep will increase apparel business` percentage share to the total revenue, and improve product quality. Palladium has distributors and stores in China and the company plans to continue this model.
For Saucony and Memell, which are operated through joint venture, will expand network through distributors after two to three years. Merrell will have new stores being opened in the second half of next year, and Saucony in the second quarter of 2020. The two brands will retain 30% of their original design products. 70% will be the products that are redesigned for the China market. We give accumulate rating, target price-earnings ratio 18 times, target price HKD5.15. (current price as of October 9, 2019)
Business Overview
About the company
The company was founded in 2002 and listed on the Hong Kong Stock Exchange in 2008. The company completed a three-year strategic transformation in 2018, with revenue increasing by 24.8% y.o.y.in 2018. The same-store sales of its retail network also recorded 1 double-digit growth during the year.
Its multi-brand strategy started with the joint venture with Wolverine, which owns multiple outdoor, sportswear and casual wear brands, to develop, market and distribute Merrell and Saucony's apparel and accessories in China, Hong Kong and Macau.
It entered into the stock purchase agreement to acquire E-Land Footwear USA, for a cash consideration of US$260,000,000. is principally engaged in the design, development and marketing of footwear, apparel and accessories for athletic, high performance sports, adventures for all terrains and fitness activities and casual wear under three internationally recognised brands, including K-Swiss, Palladium and Supra as well as two sub-brands, namely PLDM and KR3W. Its revenue of 2018 recorded US$210,000,000, K-Swiss and Palladium were the two main income sources. Adjusted EBITDA turned into a profit of US$1,668,000. Net losses after taxation was narrowed to US$14,850,000.
The company believes that the transaction is an attractive opportunity to invest in a portfolio of global renowned sportswear and lifestyle brands targeting the high-end market segment. K-Swiss and Palladium, each with distinct brand positioning and different target customers, are highly complementary to the company's current brand portfolio and will enable the company to transform into a global sportswear player serving diverse customer needs.
Interim results of FY2019
Its interim revenue increased by 23% to RMB3.36 billion. GPM increased by 0.9ppt to 44.6%, which was mainly contributed by the sale of higher-ASP functional apparel products. The company also maintain effective cost control throughout the supply chain by utilizing both in-house and outsourced production, such that the increase in material costs and manufacturing costs was full absorbed by the increase in ASP.
For the period, the percentage share of selling and distribution expenses to revenue increased by 1.4ppt to 19%, which was mainly due to the increase in advertising and promotional costs. The percentage share of general and administration expenses decreased and thus the overall SG&A expenses stands at 27.3%. Net profit increased by 23.4% y.o.y. to RMB463million, with a interim dividend of HK12.5 cents. The interim dividend payout ratio for the period is 59.3%.
Same-store sales in the second quarter recorded low double-digit growth, while retail sell-through growth, including online and offline channels, increased by more than 20% y.o.y, retail discounts ranged from 20% to 25%, and inventory turnover days were approximately four months. The business performance was similar to that of the first quarter. The first quarter was affected by the promotion during the Lunar New Year period. The discount level was as low as 25%.
Investment Thesis & Valuation
We give accumulate rating, target price-earnings ratio 18 times, target price HKD5.15. Potential investment risks include new brand performance missing expectations, and industry competition intensifying. (current price as of October 9, 2019)
Financials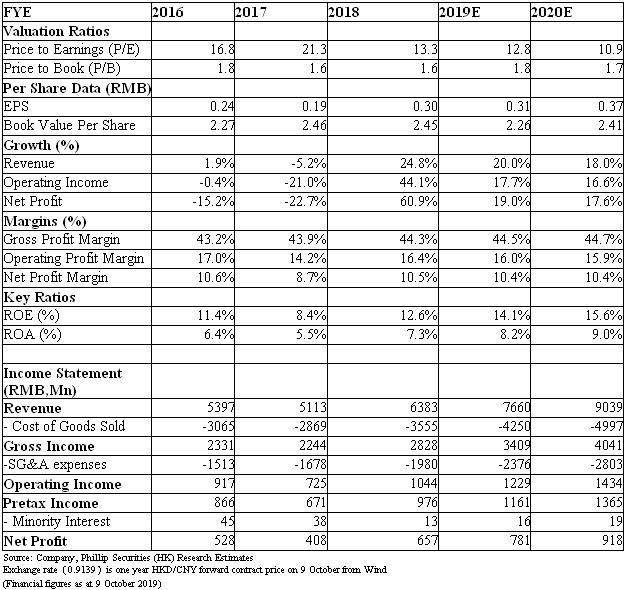 Recommendation on 11-10-2019
Recommendation
Accumulate
Price on Recommendation Date
$ 4.380
Suggested purchase price
N/A
Target Price
$ 5.150