Ausnutria (1717.HK) - Own-branded goat milk powder business with fast growing trend; planning to repurchase shares in the open market
Investment Summary
Ausnutria has announced financial results for the nine months ended 30th September 2019, with revenue increased by 23.9% y.o.y, mainly due to the growth of its own-branded formula goat milk powder and cow milk powder, which increase by 40.3% and 30.6% respectively. The percentage share of own-branded business to total revenue increased by 7.3ppt. y.o.y. to 87.7%. Revenue growth recorded 28.3% y.o.y. during Q3. Nutrition products and private label and others businesses, decreased by 23.1% , as a result of the company's strategy to prioritise more of its resources to better serve its own-branded business.
The gross profit margin during the first nine months and Q3 remained at 52%. The adjusted EBITDA during the first nine months increased by 60.9% y.o.y. The fair value of derivative financial instruments recorded a loss of RMB37.6 million. Net profit increased by 37.1% y.o.y. to RMB624 million, adjusted net profit increased by 67.6% to RMB662 million.
The board of the company has announced that it has resolved to conduct repurchase of shares in the open market from time to time at an initial aggregate consideration of HK$100 million. Depending on market conditions, it may resolve to further increase the scale of the share repurchase as and when considered appropriate.
Short seller Blue Orca has recently published reports about Ausnutria. IRC has been established and engaged the independent consultant to conduct the independent review. According to the first phase report, the customs` records and the company's import records are consistent in all material aspects.
The independent consultant further noted that the import volume of goat milk in 2017 as per the customs` records was 154% higher than the annualised import volume as estimated by Blue Orca in the short seller reports. Thus the allegations of exaggerating income and profits are not valid. In addition, the independent consultant did not find any direct evidence that shows the acquisition of 40% of the equity interest in Nutriunion HK was a sham transaction.
According to the second phase of the report, the allegations of the short-selling institutions providing misleading marketing information to consumers are caused by the differences in disclosure requirements in different jurisdictions, the IT deficiency, the translation error and the customer representatives misunderstanding, which do not have a material impact on the description of Kabrita's goat infant formula products. The independent consultant has not identified any evidence supporting Blue Orca's claim that the named distributors were "secretly" controlled by current or former executive of the company.
As for the allegation that the packaging materials and resource consumption published in the ESG report did not increase correspondingly to the growth in infant formula revenue, the independent consultants found that the general trend has been consistent and there is no evidence that the revenue is exaggerated. We maintain buy rating, target price-earnings ratio 25 times, with target price HKD15.7. (current price as of November 26, 2019)
Investment Thesis & Valuation
We give buy rating, target price-earnings ratio 25 times, with target price HKD15.7. Potential investment risks include policy change, market competition deterioration, and raw milk cost with huge volatility. (current price as of November 26, 2019)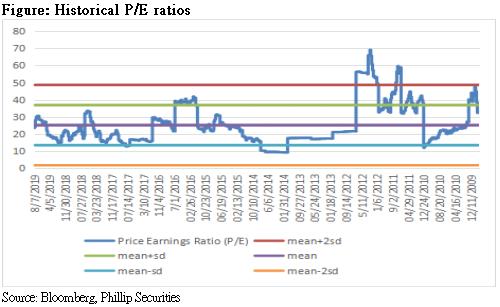 Financials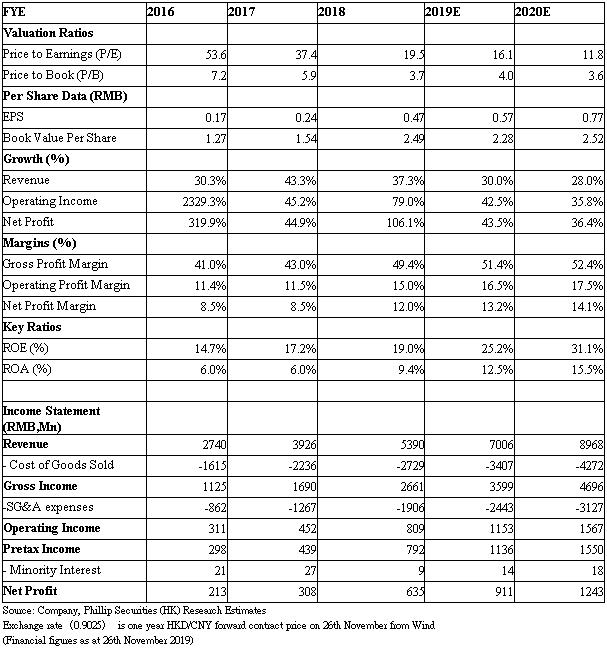 Recommendation on 29-11-2019
Recommendation
Buy
Price on Recommendation Date
$ 10.100
Suggested purchase price
N/A
Target Price
$ 15.700