BYD (1211.HK) - Maintaining the Momentum in Times of Stability, the Matthew Effect in the Leading Enterprises in the Industry is Expected to Be Enhanced
Investment Summary
The YoY Increase of the Total Sales in July Turned from Negative to Positive
The latest sales data shows that the auto sales of BYD in July was stable and the sales volume was 31,382, with an increase of 1.3% yoy, being positive within the year for the first time. Due to the off-seasons, the sales volume was reduced by 6.95% mom. Influenced by the impact of COVID-19 pandemic in H1 and the high cardinal number during the same period of the previous year, the accumulative auto sales volume of the previous seven months this year reached 190,000, down by 26.65% yoy, lower than the decrease of H1 by approximately 4 ppts.
The total sales volume of BYD fuel vehicles was 16,282 in July, up 12.93% yoy while down by 17% mom. Most of the sales volume was contributed by Song Pro (10,068), and the recorded sales volume of Song/Qin Pro/Tang/Song Max/Qin/F3 were 2,040/1,047/1,007/955/827/338, respectively, among which the proportion of SUV models witnessed a significant rise.
In terms of NEV, the total sales volume was 15,100 in July, down by 8.85% yoy and up by 6.6% mom. Specifically, the commercial vehicles (+133%) outperformed the passenger vehicles (-14%), and EVs outperformed the PHEV (-49%). Among the models of EVs, Qin EV/Yuan EV/E2/Song Pro EV recorded sales volume of 3,400/1,801/1,534/1,198, respectively. The sales volume in the first month of the star model Han EVs launched in the middle of July was 1,205, still gaining the climbing momentum. The sales volume of the hybrid electric vehicles of Tang DM/Song Pro DM/Qin Pro DM were 1,305/1,102/664, respectively.
Many New Models of Vehicles Were Launched, and the New Product Cycle Was Initiated
Recently, Han, BYD's all-new flagship model of the Dynasty series, was officially launched. It includes three EV vehicles and one plug-in hybrid electric vehicle, with the price after subsidies ranging from RMB219,800 to RMB279,500. Compared with rival products such as Tesla Model 3, NIO and Xpeng, BYD has a certain competitive advantage in interior decoration, safety performance, configuration, endurance, price and other aspects, which shows the company's great progress in the field of car manufacturing and strong capability of cost control. In terms of power, the maximum power of Han EV model with the longest endurance is 163kw, and the acceleration is 7.9 seconds per hundred kilometers. The maximum power of four-wheel driven high-performance model is 363 kilowatts, with an acceleration of 3.9 seconds per hundred kilometers. Their batteries are all lithium iron phosphate blade batteries with a capacity of 76.9kwh, and endurance with NEDC are 605km and 550km, respectively. Han DM uses the ternary-type battery, with the endurance of 81km in the pure electric mode, an acceleration of 4.7 seconds per hundred kilometers, and a maximum power of 321kW.
In H2, BYD's all-new SUV Song Plus, Tang, Yuan, E2 and other important models will also be launched in succession. By the end of the year, all-electric versions of BYD's existing Dynasty models will be fully equipped with new blade batteries. In 2021, Dynasty models equipped with BYD`S DM4.0 technology are also expected to be launched in succession, and the expected price will be reduced by RMB20,000 to RMB40,000. With the start of a new product cycle, BYD is expected to usher in a new wave of sales and soar in results.
Business Spin-off Was Accelerated, and the Growth Space of the Company Was Opened up for a Medium and Long Term
In the strategic layout of market-oriented development, BYD Semiconductor, as China's largest vehicle IGBT manufacturer, has completed its internal restructuring, accomplished series A and A+ financing in H1 this year, and attracted some well-known institutions such as Sequoia, CCIG, SDIC, BAIC Capital, SAIS, and SMIC. In the future, BYD Semiconductor will accelerate its spin-off listing, and cultivate more subsidiaries with market competitiveness in the businesses such as the power battery, cloud rail, commercial vehicles, and PV to achieve market-oriented operations and independent spin-off listing, so as to improve the overall value of the company and open up the growth space in the medium and long term..
Investment Thesis
We believe that the technological progress and transformation of BYD in recent years will activate its overall competitiveness again, which will enable it to enlarge its market shares in the coming reshuffling period. Advance position in a qualified race track, forward-looking layout and outstanding capability to implement are helping the Company to enter a result realizing period with multiple harvest businesses. Therefore, although there are various challenges in the future, we believe that the Company is entering into a growth period with more stability and sustainability.
As the latest estimates, we revise the target price to HKD79, which corresponded to 3.5/3.4/3.1x P/B and 77/58/44 x P/E ratio for 2020/2021/2022. We give the rating of "Accumulate". (Closing price as at 17 August)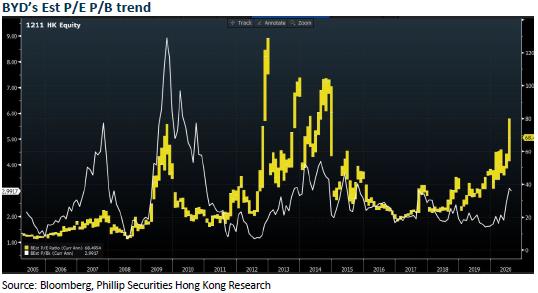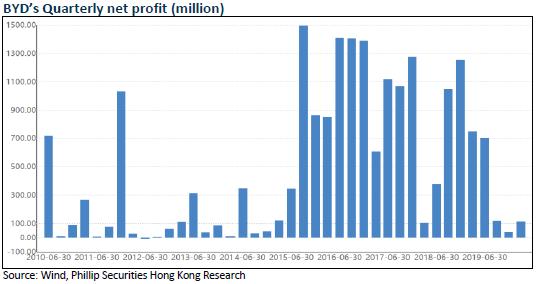 Risk
Sales of NEVs is not as good as expected
New business risk
Slow-down of Hand-set components business
Financials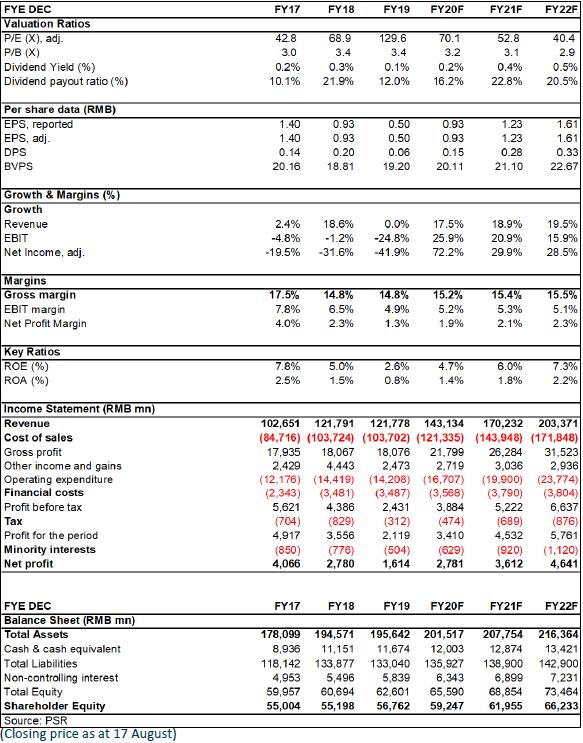 Recommendation on 19-8-2020
Recommendation
Accumulate
Price on Recommendation Date
$ 72.150
Suggested purchase price
N/A
Target Price
$ 79.000