JOYSON (600699.CH) - Short-term epidemic impact appears to be over
Investment Summary
Impacted by the Overseas Pandemic, the Loss in Q2 Increased to Nearly RMB600 million
In H1 of 2020, Joyson recorded revenue of RMB20.53 billion, down by 33.4% yoy. Profit attributable to shareholders changed from a profit of RMB514 million in the same period last year to a loss of RMB539 million. Net loss attributable to the parent company excluding non-recurring items was RMB55 million, compared with a profit of RMB572 million in the same period last year. The loss per share was RMB0.44.
As for Q1 and Q2, the revenues reached RMB12.2 billion and RMB8.313 billion, respectively, down by 21% and 46% yoy. The net profits were RMB59.44 million and -RMB599 million, and the net profits excluding non-recurring items were RMB276.6 million and -RMB332 million, respectively.
Joyson has operations all over the world. Since the end of January, factories in Asia, Europe and North America have ceased production. At the same time, fixed expenses such as labour, depreciation and amortization are inevitable. The Company recognized the fixed expenses of labour, depreciation and amortization during the shutdown period as non-recurring losses of RMB668 million. In addition, the low operating rate also dragged down the Company's gross margin in H1, down by 3.1 ppts to 14.2% yoy.
Four Major Business Sectors have Different Performance
1) Automotive safety products sector: a revenue of RMB14.6 billion was recorded, down by 39.0% yoy, and gross margin was 13.2%, down by 3.5 ppts yoy. It is expected that the Company will complete the integration of Takata's business this year, and the expenses incurred due to the integration will be further reduced and profit margin will be increased.
2) Automotive electronics business: a revenue of RMB3.02 billion was recorded, down by 7.6% yoy; Due to the impact of product mix changes and the pandemic, gross margin decreased by 6.0 ppts to 15.5% yoy. Among them, the revenue of human-computer interaction decreased by 33% yoy to RMB2.44 billion; Sales of new energy business increased by 74% yoy to RMB580 million. However, related R&D has not been interrupted by the pandemic. The new energy vehicle BMS product is in a leading position in the industry and has been applied to the Volkswagen MEB platform and the Audi MFA2 platform. This year, it will provide on-board high-voltage charging and DC/DC converters for Porsche Taycan electric vehicles.
3) Functional parts and assemblies: a revenue of RMB1.454 billion was recorded, down by 22.0% yoy, and gross margin was 22.8%, up by 0.1 ppts yoy. The Company has expanded its businesses from functional parts to the field of new energy charging and distribution. Currently, it not only designs and manufactures distributed charging piles, but also supports charging station management. The capacity utilization rate in some areas has exceeded 100%.
4) Intelligent vehicle linkage system: a revenue of RMB1.204 billion was recorded, down by 24.5% yoy; Due to the large investment in R&D in the early stage, gross margin decreased by 1.6 ppts to 10.5% yoy. The Company's first-generation OBU (in-vehicle terminal product) has been developed and is expected to be mass-produced in 2021. It is expected to become the world's first 5G-V2X mass-production project, and there is a lot of room for improvement in gross margin in the future.
New Orders are in Good Condition, and Additional Issuance and Fund-raising Guarantee Production Expansion
In H1 of 2020, the Company's new orders were RMB25.3 billion, of which Joyson Safety's global new vehicle customer orders were in good condition, including but not limited to Tesla, Honda, Volvo, Volkswagen and Toyota. Up to now, new orders were RMB16.4 billion, and the amount of orders in hand (the full life cycle of orders that have been received but not produced) reached RMB210.7 billion, and the business development trend is good. There were new orders of RMB4.7 billion for automotive electronics business, RMB3.5 billion for functional parts business, and RMB700 million for intelligent vehicle linkage business.
Recently, the Company intends to raise no more than RMB2.5 billion through a non-public offering, which will be used to expand the production capacity of intelligent vehicle's electronic products and to supply working capital. The fund-raising project plans to achieve an annual output of 0.9 million new energy battery management systems, 10.7 million air conditioning control systems, 3.5 million driving control systems and central control panels. This will help the Company break through the bottleneck of production capacity, meet the diversified needs of mainframe manufacturers, further increase the market share of the Company's related products in the domestic and international markets, and consolidate its competitive advantage in the field of automotive electronics through the expansion of production scale.
We expect that as the COVID-19 pandemic in various regions is gradually controlled and downstream customers resume work and production in an orderly manner, the Company's result will be significantly improved from Q3 of 2020. As the number of customer models continues to increase in the next few years, the Company's business related to new energy vehicle will benefit significantly, and the business scale and profitability will show a significant increase.
Investment Thesis
Although the domestic car market will be affected by the epidemic, we are optimistic about the firm leading position of the Company and the broad development space for new businesses. By the way, the Company expressed its intention to list the above-mentioned automotive electronics businesses to support further development of new businesses.
We revised the target price of RMB 28 equivalent to 255/30x P/E and 2.7/2.5x P/B of 2020/2021, and assign Buy ratings. (Closing price as at 9 Sept)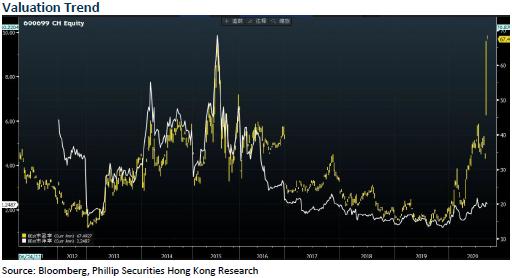 Risk
Operating collision in Joyson's M&A
Worse-than-expected downstream demand
Financials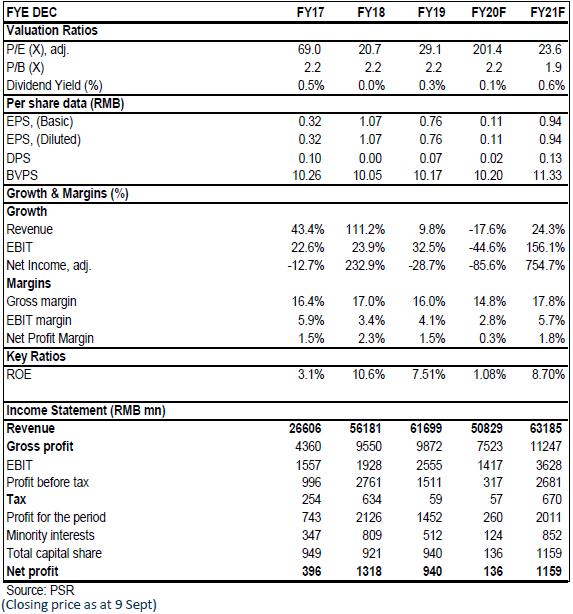 Recommendation on 14-9-2020
Recommendation
Buy
Price on Recommendation Date
$ 22.080
Suggested purchase price
N/A
Target Price
$ 28.000