JD.com, Inc. (9618.HK) - Tencent to distribute JD's shares as dividend Sell-off pressure for near-term
Company Profile
JD.com, Inc. (JD) operates online retail and marketplace e-commerce businesses, as well as fulfillment services. For the online retail business, JD sells self-operated products and third-party merchant products through its own online e-commerce platform, and provides digital marketing services to online retail business suppliers, third-party merchants and other partners. JD also collaborate with Walmart on e-commerce by launching Walmart and Sam's Club Flagship Stores on its platform and providing fulfillment solutions to them. Through strategic partnership with Dada Group, JD Logistics to provide customers with on-demand and last-mile delivery services of a wide selection of grocery and other fresh products through JD-Daojia. JD also explores in the offline retail market through 7FRESH, an offline fresh food markets, experimenting on the omni-channel model.
The Third Quarter Review
In 3Q21, the revenue was RMB218.7bn, an increase of 25.5% YoY. Despite of weak consumption and tight supply chain, JD's growth rate still exceeded the guidance given previously by the management. The net product revenue during the period was RMB 186 billion, an increase of 22.9% YoY; net service revenue was RMB32.7bn, an increase of 43.3% over the same period in 2020. The overall gross profit margin decreased by 1.2ppt YoY to 14.2%, mainly because operating costs increased by 27.3% from RMB147.4bn in the 3Q21 to RMB187.6bn in the 3Q21. Net loss attributable to shareholders in the 3Q was RMB2.8bn (compared to net profit of RMB7.6 billion in the same period last year). However, the non-GAAP net profit attributable to shareholders was RMB5bn, down 9.2% from RMB5.6bn in the same period 2020, and still better than market consensus.
Increase Active Customer Accounts
Among the net product revenues, the sales of electronics and home appliances products was RMB 110.9bn, an increase of 19% YoY; Net revenues from general merchandise products was RMB 75.1bn, an increase of 29% YoY. Net revenues from general merchandise products accounted for 40% of total revenue, up from 38% in the 2Q21. The product category of revenue is more diversified.
As of September 30, 2021, JD.com had 552 million annual active users in the past 12 months, an increase of 25% YoY. Under the spread of COVID-19 pandemic, more customers switched their buying pattern from offline to online and become a habit of regular consumption. Average order frequency for all users increased 23% year-on-year, driven by both new and existing users. And total order volume sustained a year-on-year growth of about 40% in Q3; The average number of orders per user for supermarket categories continue to increase and reached its all-time highest level. Additionally, users are purchasing more high-frequent supermarket products on JD including food and beverage, fresh produce, and baby and maternity products. According to the JD's executive highlights in the earnings call, new customer accounts starting from 2020 not only increased from lower-tier cities, but also from the 45 years old and above age group, as well as the student group of 18 to 25 years old.
Leverage the healthier competition and development environment of the industry, more 3P merchants that re-joined JD's platform. Total number of merchants and items accelerated YoY and QoQ growth. The number of third party merchants joined JD in Q3 tripled that of Q1 and Q2 combined, with apparel and home categories leading the growth.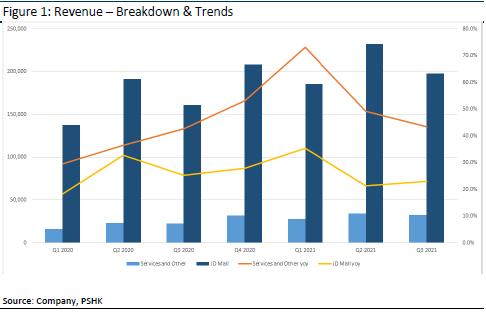 In Q3, GMV of JD's omni-channel business grew by nearly 100% YoY. Through further analysis of online and offline comprehensive data, JD would continue to provide differentiated products that best suit the needs of potential customers of various offline franchise stores, and provide customers with a more dynamic and interactive integrated omni-channel shopping experience.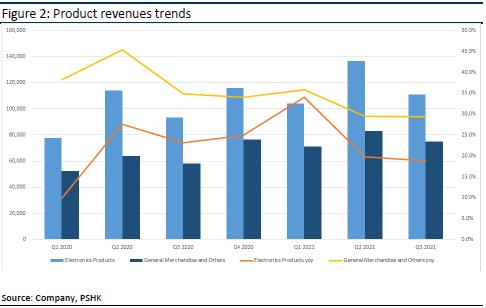 In 3Q21, fulfillment expenses increased by 23.2% YoY to RMB14.3bn, and the fulfillment expense as % of net revenue was decreased by 0.2ppt YoY to 6.5%. In addition, the management expense ratio was 1.39%, an increase of 0.5ppt YoY, mainly due to the increase in SBC expenses; the research and development expense ratio was 1.83%, a YoY decrease of 0.5ppt; the sales expense ratio was 3.55%, an increase of YoY 0.4ppt. The fulfilled gross margin was 7.7%, down 1ppt YoY, mainly due to margin drag from logistics and new business.
In net service and other income, marketplace & marketing revenues was RMB16.8bn, an increase of 35.1% YoY; revenues from logistics and other services was RMB 15.9bn, an increase of 53.1% YoY. In 3Q21, the proportion of external customer revenue of JD Logistics continued to exceed 50%, and reached a new high in this quarter. Due to the increase in the penetration rate of logistics services to third-party merchants and other third parties, coupled with high commission rates categories such as general merchandise (FMCG) and clothing has increased, making the revenue growth rate of this category higher than that of 1P-operated business.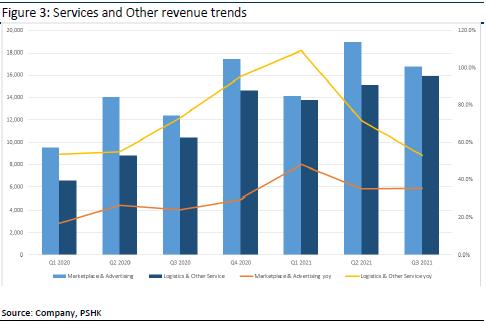 New business (e.g. community purchase and oversea ops) revenue reached RMB5.7bn, an increase of 33% YoY, operating loss from narrowed to RMB 2bn from RMB 3bn last quarter. JD's new business income mainly includes Jingxi Pinpin, overseas business and technological innovation, etc. The reason for the loss is believed to be mainly from community purchase. JD changed its strategy for Jingxi Pinpin from scale growth to quality growth, by focusing on 10 key provinces since July, this helped JD lowered order fulfillment cost by 50%. In addition, the logistics business recorded a loss of RMB720 million in 3Q21 while it earned RMB83.5 million in the same period in 2020.
Non-GAAP NPM was 2.3%, down 0.9ppt from 3Q20, still above market consensus. 4Q21 revenue growth momentum would continue, as double 11 transaction volume in 2021 reached RMB349.1bn, an increase of 28.6% compared with 2020 record of RMB271.5bn.
Company valuation
The competition with other e-commerce platforms such as Alibaba (09988) has intensified. However, based on the fact that JD's 3Q21 performance exceeded the previous guidance given, the management also expects that revenue growth would sustain into 4Q21. Therefore, we expect JD's full-year revenue to grow 29% YoY in 2021, which is similar to the first three quarters in 2020. Tencent (00700) recently announced that it will distribute most of its holdings of JD (more than 100bn JD shares, its stake will drop from 16.9% to 2.3%) as special interim dividend to Tencent's shareholders. It is expected that Tencent's decision (distributing JD shares in late March) will cause JD's share price to suffer technically in the next few months. Thus, JD's share price has l geared more toward the downside rather than outperform the market, but we believe there will be no structural damage to JD's long-term fundamentals.
Based on a SOTP (sum-of-the-parts) valuation methodology, given a "Neutral" rating and our Jun-22 PT of HK$291. Our assumptions include:
- JD Retail: we assign a fair value of HKD$213 per share, based on a 2022E non-GAAP P/E of 25.0x (the peers average is 35.0x).
- Other investments (including JD Digits and various investments in other listed or non-listed companies): we assign a fair value of HKD$79 per share, based on their last round of funding or a 30% discount to the market value for listed companies.
Risk factors
1) Weak domestic growth and consumer spending; 2) Tencent provides Level 1/2 access points to JD, will be expired after May 2022, the renewal has an uncertainty; and 3) Slower-than-expected GMV/revenue growth.
* The analyst has a financial interest in the listed corporation covered in this report.
Financial

Recommendation on 21-1-2022
Recommendation
Neutral
Price on Recommendation Date
$ 305.200
Suggested purchase price
N/A
Target Price
$ 292.000